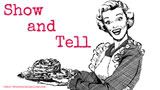 Today I am shamelessly going to promote my other blog What Would Nigella Do?.  I have set up a linky whereby I ask you to 'Show & Tell' – this week I want to know your favourite kitchen gadget.  Each week there will be a new topic (foodie related) and you get the chance to herald your faves to the blogosphere!  Who doesn't like a bit of showing off?  I have some corkers lined up too…..
While you're there you can also get some recipes for things like Pimm's Cupcakes, Cheesy Marmite Whirls and Kids' chicken pies.
Enough self-promotion?  Thought so….
See you here tomorrow for my (celebrity) #satcap!